Magic By Catagory
Card Tricks
Coin Tricks
Levitation
Fire magic
D'Lite
Magic Kits
Magic Video Dvd's
Magic Books
---
---
Free Tricks Online


Magic Secrets Revealed Online !

Dollar bill trick
Rope magic trick
Learn 2 Card Monte
Magic card trick
Pick Any Card
Cut in Half

The Amazing Garfield
Published by Paws, Inc.



Online magic trick
garfield.com

Magic acts
Famous magicians


Lance Burton
Uri Geller
Penn & Teller
Harry Houdini
William Robinson
(Chung Ling Soo)
Howard Thurston
David Copperfield
David Blaine

Mythical magicians
Merlin the magician
Harry Potter



Amaze your audience, pull cards from thin air !
Learn cool magic tricks online.Street magic trick secrets revealed online.
Free card tricks money magic, close-up magic tricks.
Great beginner magic tricks. Amazing magic trick secrets revealed.
Watch a magic video online


NEW ! Make your own Magic props
Make your own magic props, make amazing props
from items around the house.
Easy online instructions
Make your own magic props

---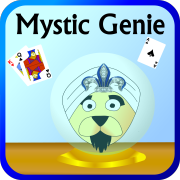 New ! Free Magic Trick for your Android Phone or Tablet
Mystic Genie Magic Trick
A Free Android App
The Great Mystic Genie A great mind reading magic trick. The Mystic Genie will read your thoughts to find the card you select. A simple, yet fun an effective magic trick. A magic show for your Android device that's a lot of fun and very exciting! Amaze friends and family with this trick designed to stimulate the imagination and solve a mystery too.
Mystic Genie Magic Trick For Adroid 2.3 and above
---
---
Bite Out Quarter / Bite Quarter
This is a seemingly impromptu miracle. The magician displays a quarter, and then takes a bite out of it!
Rock Ridge Magic Products - Bite Out Quarter / Bite Quarter - Includes special gimmick and instructions.